We're a pretty busy digital team at The King's Fund, but with the traditional wind-down for Christmas we usually expect (though it's not often the case in practice) a lull in December, with a drop in web content, site visits and engagement on our social networks.
Things didn't work out like that this year, thanks to our digital Christmas project: an Advent Calendar using Vine videos that aimed to spread some important health and social care messages with a festive twist.
The idea first came up in a conversation at our desks. We'd wanted to experiment with Vine for a while, and Christmas seemed like a great opportunity. And if we were doing one Vine, wouldn't a series be even better? Perhaps for the 12 days of Christmas – or what about a Vine Advent Calendar!
We were excited about it straight away – but recognised we'd need to work up our ideas to present them to senior management and to get buy-in across the organisation, especially as adopting a Christmas theme would push The King's Fund to the limits of its 'light side'. A small group of us had a 'super-secret Christmas plan' meeting where we brainstormed ideas and had surreal conversations about the leadership qualities of Rudolph and the best health-related cracker jokes. Once we had worked up a few examples we presented the idea to the Director of Comms and the CEO – and they loved it. We were off!
But it turns out there's far more work than you think involved in producing a 6-second video (particularly when you're making 24 of them)…
Our work is often quite serious and high-brow, and while this certainly isn't a barrier to creating innovative digital content, using Christmas as a theme gave us the chance to be that bit more playful and creative. There were definitely a couple of visuals – Del Boy and Rodney cut-outs and elaborate Lego creations spring to mind – that we might have struggled to justify using for one of our more traditional reports.
Click to view
As for the content itself – Christmas health facts were plentiful, easily accessible and fun to film, but most importantly they gave us an opportunity to include some serious health messages and link back to relevant content on our website.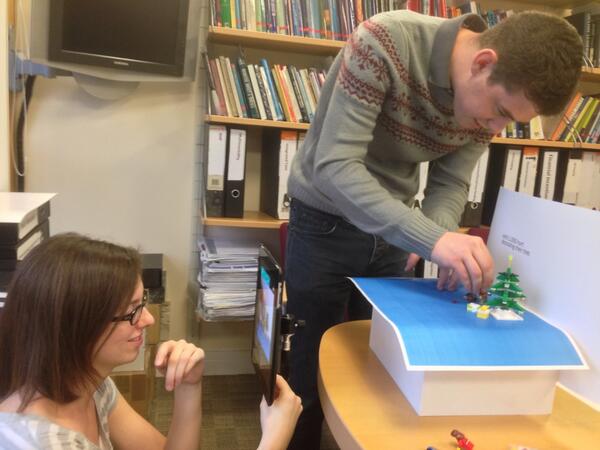 Even during the planning stage we learnt a lot – some facts were brilliant, but we would never fit the story into six seconds (as we progressed, we filmed quite a few in rough first to check that they would work in practice). And we had to re-record our very first one and replace it on day two when someone spotted an error in the figures used. From then on facts were checked and re-checked by the Policy team. Even if a product is light-hearted, the facts behind it have to be iron-clad – lesson learned.
It was really important to us that the project involved people across the Fund, and that the fun, creative part wasn't done externally by an agency, but in house by the team. We worked with Policy, Comms and Leadership Development colleagues to come up with the facts, design the artwork, brainstorm the production ideas and play a role in the Vines themselves. The project drew teams at the Fund together, and it was great to hear people discussing their favourite days, tweeting about the videos and spotting their colleagues in cameo roles. Supportive colleagues who don't take themselves too seriously and managers who are willing to take a risk on something new are worth their weight in gold.
Click to View
As for the finished products, they look deliberately 'organic', and there's a marked difference in quality (and creativity) between our earlier and later attempts as we began to learn what worked and what didn't. I, for one, will be celebrating when Vine develops the option to record without sound and we can avoid the hissing noise that affected some of our videos (although taping over the microphone helped marginally). Filming in winter certainly challenged us to find good natural light (we often opted for desk lamps and card to block out bright spots) and I cannot recommend an iPad tripod stand enough (we used the Grifiti Nootle iPad Tripod Mount) to help steady your shot.
As for Vine itself, it was an ideal medium for the project, but like all free technologies, it's not without its issues. While we loved the automated share on Twitter, and the ability to film Vines in advance and replace shots without reshooting the whole thing (discovering this on day five was a godsend), there were frantic moments too.  We had to film a couple of early morning retakes on days when uploads just failed and the app had a heart-stopping tendency to 'wipe' all of our saved Vines (though they always miraculously returned if you were patient enough). Unpublished Vines can only be stored locally on the device on which they were filmed, meaning the team iPad was preciously guarded and I think we all worried about losing it on the train home. And I will always remember this Christmas Eve as the one I spent persuading a genius at the Apple Store to restore my settings when the iPad gave up just before publishing Day 24.
Click to view
As for the results, the Calendar was featured in sector press, tweeted and flagged on social media throughout the month, and our December web stats were 50 per cent higher than the previous December.  For a project that started out as a bit of fun and an experiment, this turned into something much bigger, more time-consuming and important – but then again, don't all the best ones turn out like that?
See the full Advent Calendar at www.kingsfund.org.uk/christmas
Jen Thorley is Digital Communications Manager at the Kings Fund